Mental Illness Fellowship of South Australia - Respite Programs
Submitted by SAcommunity on Fri, 02/08/2013 - 09:41
Guest blog from Stephanie Papps, Respite Coordinator, Mental Illness Fellowship of South Australia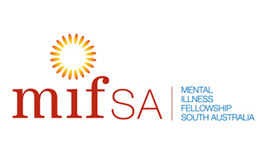 Guest blog from Stephanie Papps, Respite Coordinator, Mental Illness Fellowship of South Australia
MIFSA is a membership and community based not for profit organization and is now the largest specialist mental health non government organisation in South Australia. MIFSA Respite Programs assist carers to take a break from their caring role, improve the relationship with the person they care for, and help carers and their families to maintain their caring role.
Services are flexible and involve tailored support options thatare developed in collaboration with the carer and care recipient. Support options include:
1 to 1 Support with Trained Respite Workers
Short Breaks and Retreats at MIFSA's Respite House
Social and Recreational Activities
Telephone Support
Group Education Programs for Carers
Information and Referral Services
Peer Support
MIFSA's respite support options have a strong focus on recovery, which means work is often undertaken with care recipients to either commence or progress their recovery journey. This approach to working with care recipients reduces some of the challenges experienced by the carer and their relationship with the person they care for.
MIFSA's Respite House is a support option which delivers recovery focused programs for care recipients or a break with enjoyable activities for carers. Respite House programs are short term and operate during weekdays. A catalogue of upcoming programs which includes a referral form is available online at www.mifsa.org or by contacting MIFSA.
A video walkthrough of the Respite House is also available on MIFSA's website.
Often carers don't identify themselves as 'carers'. Rather, they are likely to see themselves as mothers, fathers, partners, family or friends first who simply provide care as an ordinary everyday duty in that role. This often means many carers remain hidden and don't access services that are available to them.
If you would like to know more, please contact MIFSA Respite Programs on tel. 08 8378 4100 or email respite@mifsa.org
Sign up for the newsletter!