National Op Shop Week - Two Wells Community Craft Shop
Submitted by SAcommunity on Mon, 08/28/2017 - 14:45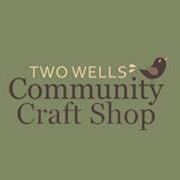 National Op Shop Week runs from the 27 August to 2nd September this year. The SAcommunity directory lists 207 opportunity shops including Australian Red Cross, Goodwill, Lions, Salvation Army, St Vincent de Paul, RSPCA and many more which sell goods for charity fundraising.

The Two Wells Community Craft Shop is no exception, raising funds for the restoration of the heritage listed Two Wells Court House built around 1878 and other local charities. We contacted volunteer Diane Meaney to find out more about their organisation.

How did the Two Wells Community Craft Shop begin?
The Shop was established in 1979 when a group of ladies who met on a regular
basis to produce a variety of handicrafts, were looking for an outlet for their
various arts and crafts. The shop currently occupies the historic Two Wells Court House.

What is your organisation and what do they do?
The Craft Shop is run totally by a willing band of volunteers, with all profits
being put towards the restoration and maintenance of the Court House and
supporting local charities. The shop offers a range of hand crafted goods, giftware, locally established plants and trees, produce such as honey, olive oil, homemade jams and relishes and bric-a-brac.

How does your organisation help people connect and their community?
The shop provides talented locals with a channel for creative expression, a chance to socialise and meet new people. In addition, we are helping our local community by preserving a significant building and by raising money for local causes and charities that are important to us.

What help does your organisation need?
Always looking for new members and quality donated goods.

Looking for more information? Contact the group here: Two Wells Craft Shop
Sign up for the newsletter!