Focus on a service: Baptist Care SA
Submitted by SAcommunity on Mon, 01/22/2018 - 17:59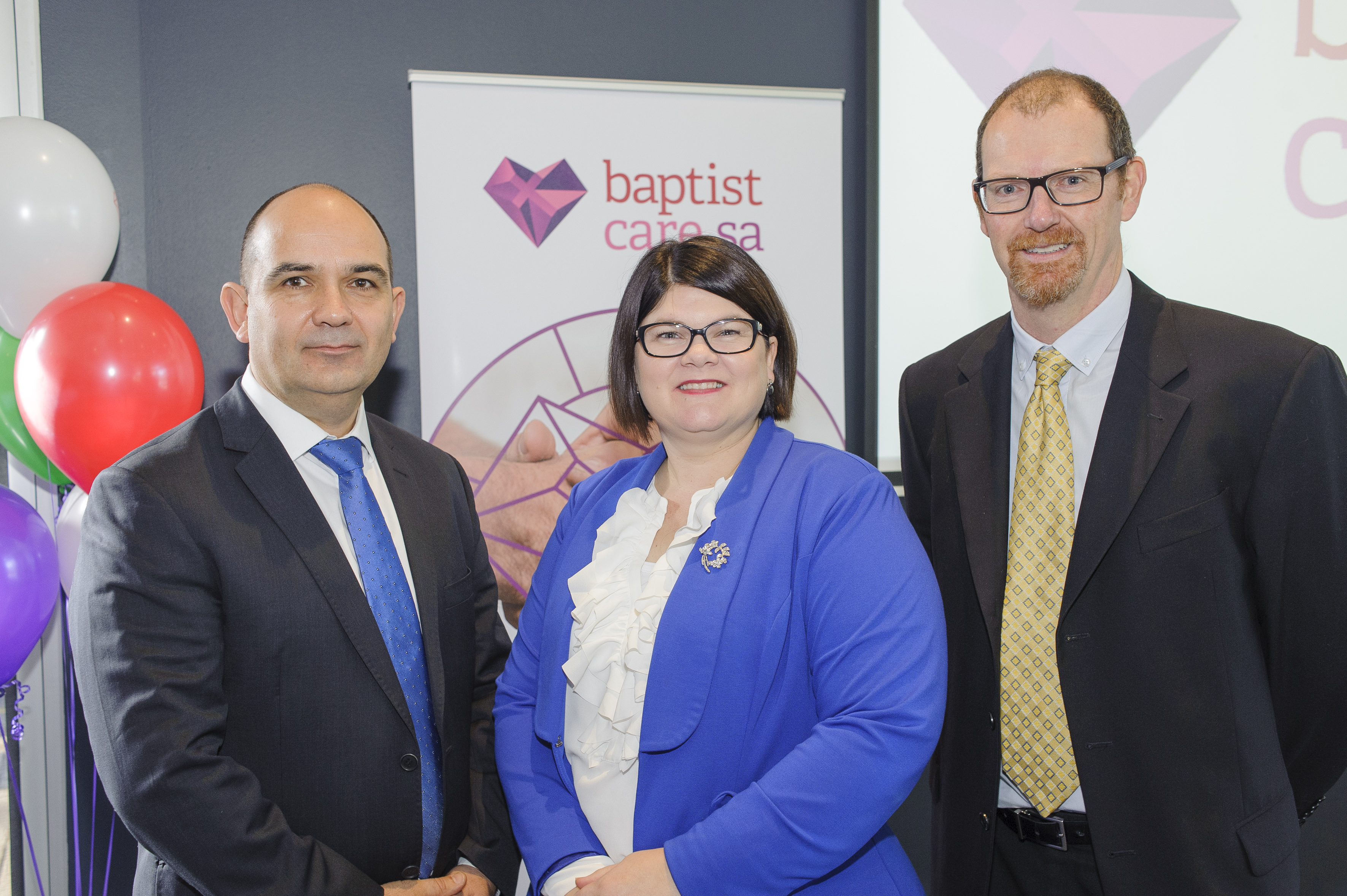 Photo: Tim Johnson, the Hon Zoe Bettinson MP and Michael Hynes
Baptist Care SA - Finding ways to make people's lives better

This month as part of learning about the many community services that provide services throughout South Australia, the SAcommunity team contacted Baptist Care SA to find out more about their work across the state.
Beginning in 1913, Baptist Care SA has grown to over 1200 dedicated staff and volunteers, working tirelessly to help South Australians achieve their full potential. We're committed to working with the State's most disadvantaged, championing local issues and connecting with people to enable positive change. It isn't easy tackling such tough issues, but our clients' successes mean it's often extremely rewarding.

Baptist Care SA rebranded itself last year in response to significant growth and changes in service delivery and to respond effectively to future needs. At the celebratory launch, Baptist Care SA identified that moving forward, the service will:

be investing further into the historical heartlands of Inner City homelessness
expanding our NDIS services offerings, and
ensuring improved outcomes for children and young people at risk of being removed from their families.
"Above all, we want our clients to gain a feeling of love, hope and possibility," said Michael Hynes, previous Acting CEO at the launch to the more than 100 staff, volunteers, clients and stakeholders gathered over morning tea at the Adelaide Pavilion. Speakers at the event included Tim Johnson, past Chair of Baptist Care SA, the Hon Zoe Bettison MP, Minister for Communities and Social Inclusion and Mike Mills, State Executive Minister, Baptist Churches of South Australia.

"Fundamental to our continued existence is our Christian mandate that we are here to serve and support people as they courageously take steps to change their lives and reconnect with their community. An unbelievable 1 in 10 South Australians need help to find a safe place to call home – with a significant number of these aged just 19 or under. For more than 100 years, we've been there to lend a helping hand and combatting homelessness has never been more important to us.

But Baptist Care services also address vital areas such as Youth, Aboriginal Services, Refugees and Asylum Seekers, Family Mental Health and Disability. Our Chaplains work in prisons, hospitals, community centres, with the aged and of course with our staff and volunteers. Our commitment to support Baptist communities across the state sees us working in partnership to empower people to discover God's gifts within themselves to prevent suffering, as well as alleviating it when problems arise. Together we can build a caring community that enables people who are hurting to experience the healing power of our Lord." Tim Johnson, past Chair of Baptist Care SA

Learn more about Baptist Care SA at www.baptistcaresa.org.au
Sign up for the newsletter!