Fleurieu Male Choir 1988 - 2018
Submitted by SAcommunity on Mon, 06/11/2018 - 14:06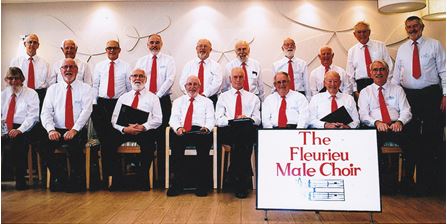 Interested in Singing? SAcommunity lists 87 Singing groups and 111 Choirs across South Australia. The act of singing brings not only pleasure to the singer (and listener) but a range of health benefits as a social, musical and aerobic activity. SAcommunity was fortunate to hear from the Fleurieu Male Choir about their group and how they use their talents to assist the community around them.

The Fleurieu Male Choir - celebrates 30 years
This year the Fleurieu Male Choir celebrates its 30th birthday from its beginnings in 1988 as a double quartet within the Encounter Bay Probus Club. In 1989 men outside of Probus expressed an interest in becoming a part of the choir and were encouraged to join. This new development established the choir as a community based organisation, drawing on the whole of the Fleurieu Peninsular for membership, and became the Fleurieu Male Choir in 1991, with weekly rehearsals in Yilki Uniting Church Hall now on Thursday afternoons. 2017 membership stands at 21 voices.

Over the previous years the choir has been delighted to participate, along with other Choirs in South Australia, in massed choir festivals, and on Sat. 11th August 2018 as a member of the SA Country Choral Association, will again sing in SACCA's annual festival at Tatachilla, McLaren Vale.

The choir has developed a wide repertoire of 4 part male choral music, from traditional folk and Christian songs, to modern show and popular Australian songs. It performs throughout the year around the Fleurieu Peninsular and beyond, in Retirement Homes and for various charitable and community based organisations in their fund raising endeavours.

During 2016/17 the choir was delighted to sing for the Probus organisation, and in both Christ Church Anglican Church Strathalbyn, and Yilkie Uniting Church in Encounter Bay, with proceeds of $500 donated to the Strathalbyn Pantry Club, and in Yilkie, with proceeds in support of local School Chaplains.

This year, the choir is performing a total of 14 singing engagements, bringing joy and pleasure to various organisations, and residents of our local Retirement Homes.

New members are always welcome to find out more about us by simply coming along to any choir practice at 1.15pm on a Thursday at Yilki Uniting Church in Giles Street, Encounter Bay. Music and performance folders are provided. Choir uniform for performances is white shirt, black trousers, shoes and socks.

If you would like to join the choir or are interested in more information about their activities, contact the Fleurieu Male Choir:
Rev. David L Smith, Conductor, 8536 8874 or
Leon Duke, Secretary, 8552 1176, Email: leonduke1@bigpond.com
Sign up for the newsletter!