Walk a Mile in My Boots - 10 August 2018
Submitted by SAcommunity on Mon, 08/06/2018 - 12:44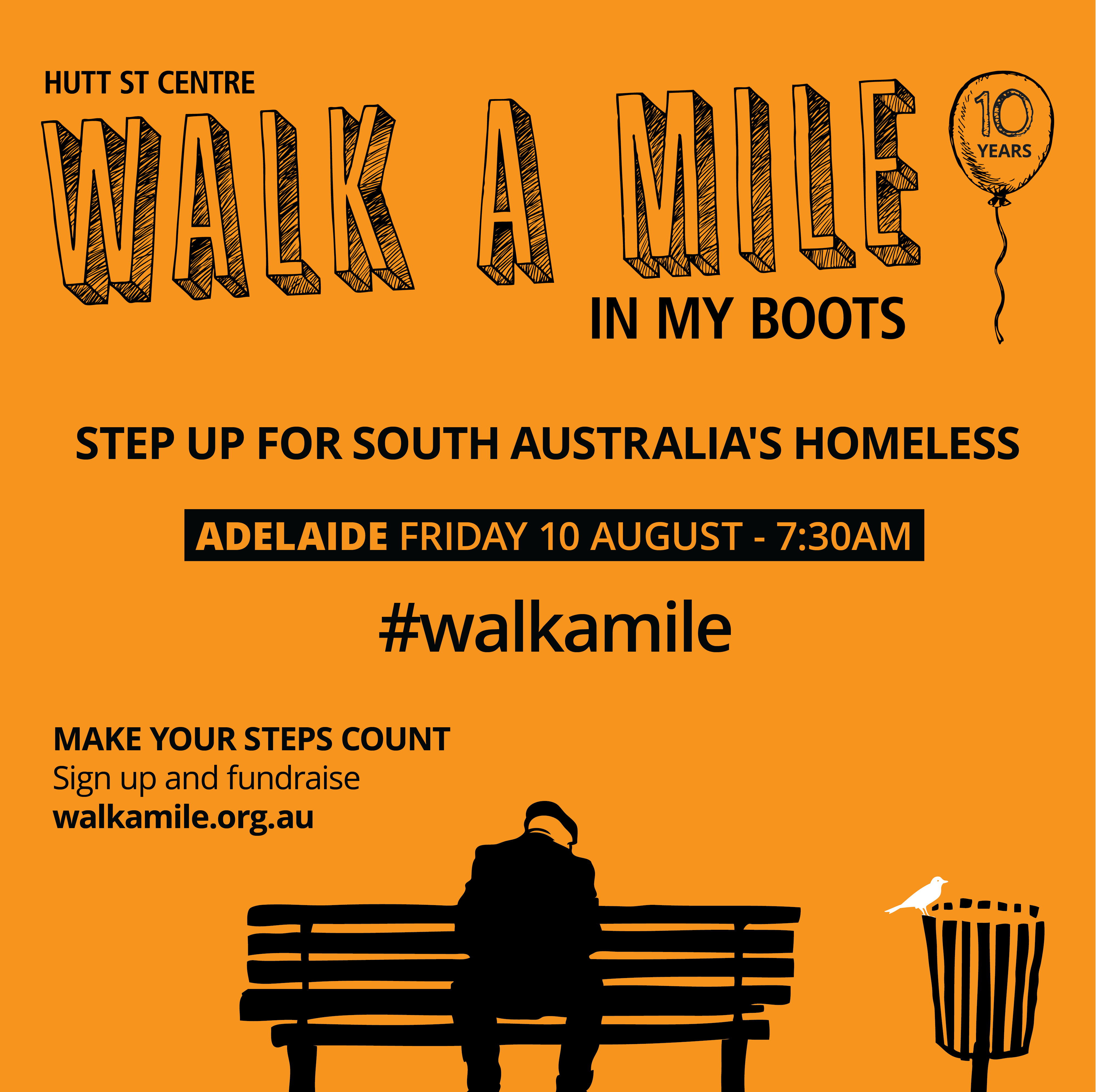 What: Walk a Mile in My Boots, a fundraiser for Adelaide's Hutt St Centre
When: Friday, August 10 at 7.30am
Where: The event starts at Victoria Park/Pakapakanthi and finishes in the South Park Lands/Tuthangga, where a barbecue breakfast will be served up by event supporters BADGE
How: Participants can register as individuals or in teams
Information and Registration, Visit: www.walkamile.org.au

THOUSANDS ASKED TO HIT THE STREETS FOR OUR HOMELESS
To celebrate its 10th anniversary, one of Australia's largest fundraising events for homelessness services is hoping to attract 6000 participants to match the annual number of people without a home in SA.
Walk a Mile in My Boots Adelaide will be held as part of National Homelessness Week, with organisers expecting the largest turnout in the fundraiser's history.

In the lead-up to the event, South Australians are being asked to help raise money for Adelaide's Hutt St Centre, which has been supporting people experiencing homelessness for more than 60 years.
SA HOMELESSNESS STATISTICS
• 5,985 people are experiencing homelessness in South Australia each year
• Reasons include accommodation issues (42%), domestic violence and relationship issues (33%), financial difficulties (8%) and mental health/substance abuse issues (2%)
• Most stay in overcrowded dwellings (29%) or supported accommodation for the homeless (27%), while some are in other people's homes (23%), boarding houses (16%), sleeping rough (4%) or in temporary accommodation (1%).

Hutt St Centre CEO Ian Cox said Walk a Mile in My Boots would see participants make their way through Adelaide's CBD on a cold, winter's morning as an act of solidarity.
"We want to give an insight into what it's like to be challenged by homelessness – to get up early and have to walk the streets just to get breakfast and a hot shower," Mr Cox said.

"Homelessness can and does happen to anyone. By joining us for Walk a Mile in My Boots, you'll be showing that this is an important issue to you, and that no person should feel like they're walking alone."

HOW YOUR MONEY HELPS
• $30: Hot breakfast and lunch for two weeks for a person doing it tough
• $50: A hot shower, laundry service and a locker for three months for a person sleeping rough
• $100: A 'home starter pack' for a couple moving from the street to a home
• $250: Safe, emergency accommodation for a family in crisis for two nights
• $350: Be an Angel – provide meals for a day for 200 people experiencing homelessness.

"Without the money raised from events like these, the Hutt St Centre wouldn't be able to provide the lifechanging, essential and professional services needed to help rebuild lives," he said. "By going the extra mile and fundraising for Hutt St Centre, you're having a direct impact on the lives of people experiencing homelessness in our community."

Participants can register as individuals or in teams, with this year's fundraising target set at $225,000.

Attendees of the 2018 Walk a Mile in My Boots Adelaide are set to include Port Adelaide Football Club players, with long-standing Ambassador Justin Westhoff set to lead the walk into its 10th year. Premier Steven Marshall and His Excellency the Honourable Hieu Van Le AC, Governor of South Australia, will also take part.

More than 20 teams have already registered, with last year's top fundraisers, Willunga Wanderers, set to again go the extra mile for Hutt St Centre by walking from Willunga to Adelaide. Corporate sponsors such as proudly South Australian businesses Rossi Boots, Beyond Bank, On the Run and the Straight Smile Centre have also come on board.

For more information and to register, visit www.walkamile.org.au
Sign up for the newsletter!