GovHack State Awards Night 2018
Submitted by SAcommunity on Thu, 10/11/2018 - 13:35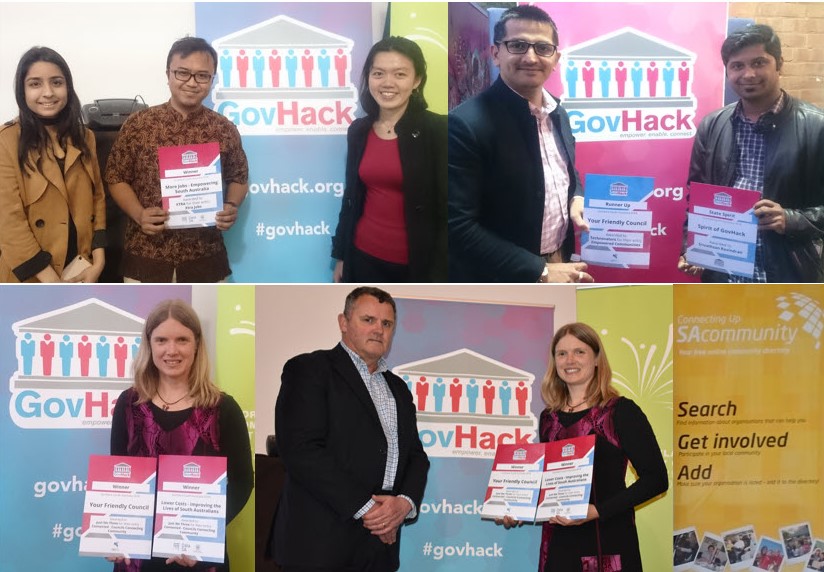 The GovHack SA State Awards Night - celebrating our state's winning teams
The SAcommunity team attended the GovHack State Awards Night yesterday on the 10th October 5.30pm - 9pm at the North Adelaide Community Centre to celebrate the state winners for the GovHack open data competition and discover more about how the SAcommunity open dataset was used by competitors. Visit Hackerspace for details on some of the innovative entries submitted.
Some of the nights many winners included:

Photo 1: Team XTRA: Alison Do, Antonious Tama, Vanshika Kapoor
Photo 2: Team Technovators: Hasan Tanvir Anjum, Srivathsan Ravindran
Photo 3: Team Just We Three member Charlene Bachmann
Photo 4: Chris James, President Local Government Information Technology South Australia (LGITSA) with Charlene Bachmann member of team Just We Three

Connecting Up's own former volunteer Alison Do, returned for her second year at GovHack with her new team XTRA and their project Xtra Jobs winning the 'More Jobs - Empowering South Australia' award from Data SA, the team who only met at the GovHack connections event are looking into further developing their project idea in the future.
Hasan T Anjum was the GovHack State Director in 2017 and his 2018 Technovators team were runners up in this year's 'Your Friendly Council' award from LGITSA. He accompanies Srivathsan Ravindran, the 2018 Spirit of GovHack state award winner. Srivathsan is currently in the final year of his Masters of Enterprise Management course at UniSA and is looking forward to finding opportunities to build on his GovHack experience and work in the IT industry.

GovHack competitors 'Just We Three' won two awards for their entry 'Connected – Councils Connecting Community'. The Mount Gambier group won the 'Your Friendly Council Award' from LGITSA and 'Lower Costs – Improving the lives of South Australians' from Data SA.
The SAcommunity team were excited to note that Just We Three utilised the SAcommunity dataset and the Mount Gambier subset provided by Connecting Up for the GovHack event, a film explaining more about the groups community project can be found here: https://youtu.be/NtUZfDvbk2I.

Connecting Up wish to congratulate all of the state's GovHack winners and competitors in another successful year and celebration of open data, technology and innovation.

Sign up for the newsletter!