'Be a Pair to Show you Care!' with a 3-legged challenge this March
Submitted by Meika Bottrill on Mon, 03/11/2019 - 11:23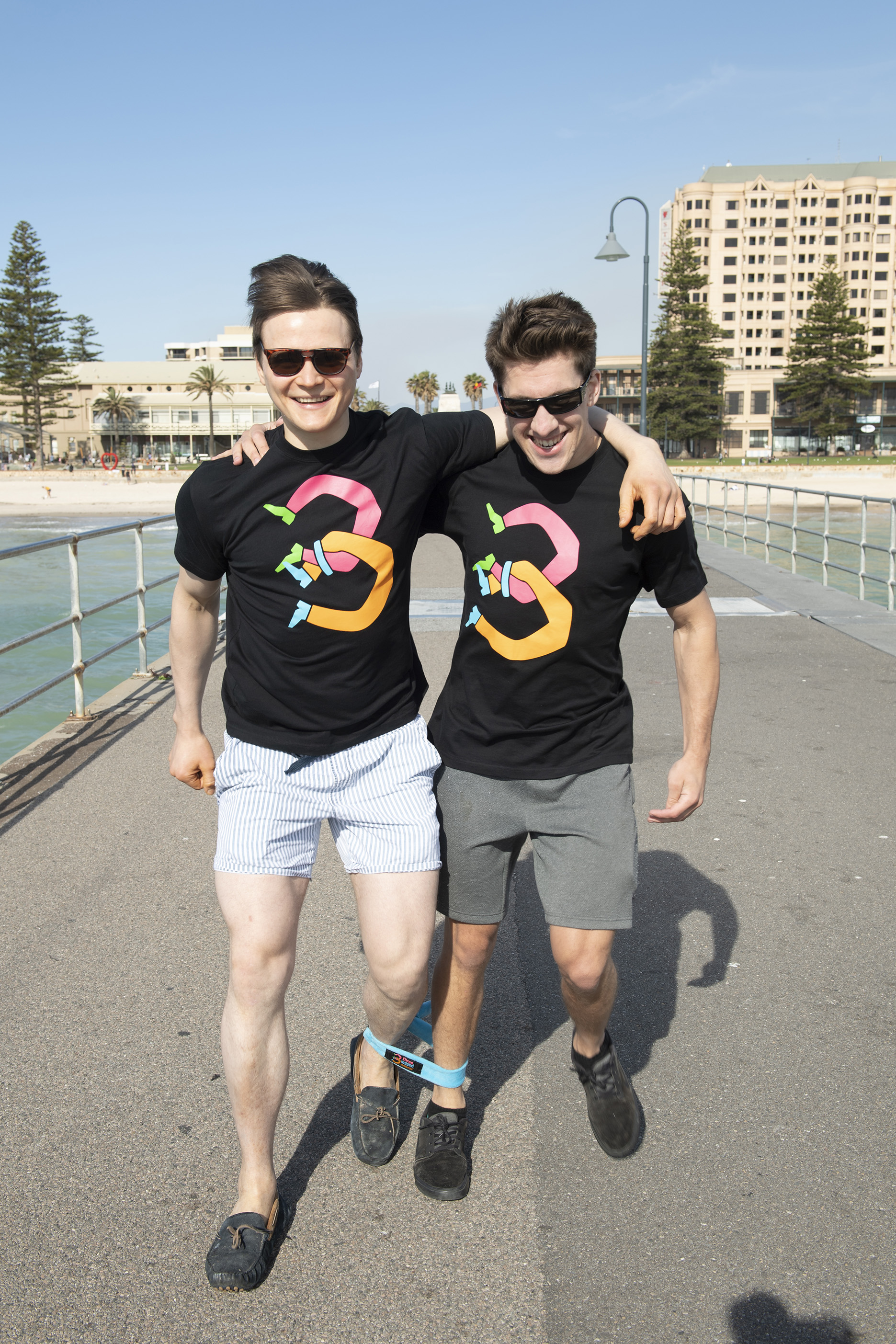 What: 3-Legged Challenge
When: Anytime over 22-24 March 2019
Who: Carer Support, Carers SA, Carers & Disability Link, and Northern Carers Network.
Where: Anywhere!
How: Register online at 3leggedchallenge.com.au for fundraising pack, leg-tie and t-shirt

The 3-legged Challenge!

Adventurous South Australians are being urged to have some fun and sign up for the first '3-legged challenge' to raise funds to provide a break for the many thousands of carers across SA.

The '3-legged challenge' concept is simple — choose a mate and then tackle a challenge tied together!

Whether it's running along the beach, or going out on the town, being tied to someone requires plenty of teamwork, patience and consideration and the hope is that it will give people a glimpse into the commitment and loyalty required by an unpaid carer.

"We're inviting people to pick a mate, choose any sort of challenge they like, and commit to it in public so their friends and families can sponsor them to see it through," said the event manager, Dave Simms.

"We also want carers to know that we acknowledge what they do, we understand how the commitment can affect their lives and that it's okay to take a break! So we're launching this new campaign to fund a well-deserved weekend away for as many carers as we can."

Every $250 we can raise will fund a break for a carer provided by four charities: Carer Support, Carers SA, Carers & Disability Link, and Northern Carers Network.

"We think people will be really creative and we're really looking forward to them embracing this fun challenge and raising much needed funds for the thousands of unpaid carers who selflessly get on with what needs to be done," Dave said.
The '3-legged challenge' will run throughout the weekend of 22-24 March – anytime, anywhere with anyone you like!
To register and receive your free fundraising pack, including your special leg-tie and t-shirt go to 3leggedchallenge.com.au
~ Contributed by Dave Simms, Carer Support
South Australian Carer Support Organisations - Meika Bottrill
Every day, one in six South Australian's* have the immense responsibility to care for a loved one with a serious physical or mental illness or disability. This responsibility can be exhausting and time-consuming, and carers become forced to put their loved one's needs before their own.
Carer support is a not-for-profit organisation that provides a support service to people caring for a loved one in Adelaide's eastern and southern suburbs. The support provided includes advice and connections to a social network with similar experiences.

Carers SA is working towards value and support for all carers within Australia. Through partnership with the government and health/community sectors, Carers SA aims to improve to conditions for unpaid carers through policy development, research and advocacy.

The Carers & Disability Link connects both people living with a disability and carers with support services within the local community. Individualised support and service provision enables the organisation to empower unpaid carers.

Northern Carers Network is a support service located in the northern region of Adelaide. Assistance is provided to people caring for a loved one in the home environment through funding by the Federal and State government.
*Statistics from carer support website

Sign up for the newsletter!