GovHack - Mount Gambier - Competition Event 6 - 8 September 2019
Submitted by SAcommunity on Mon, 09/02/2019 - 17:45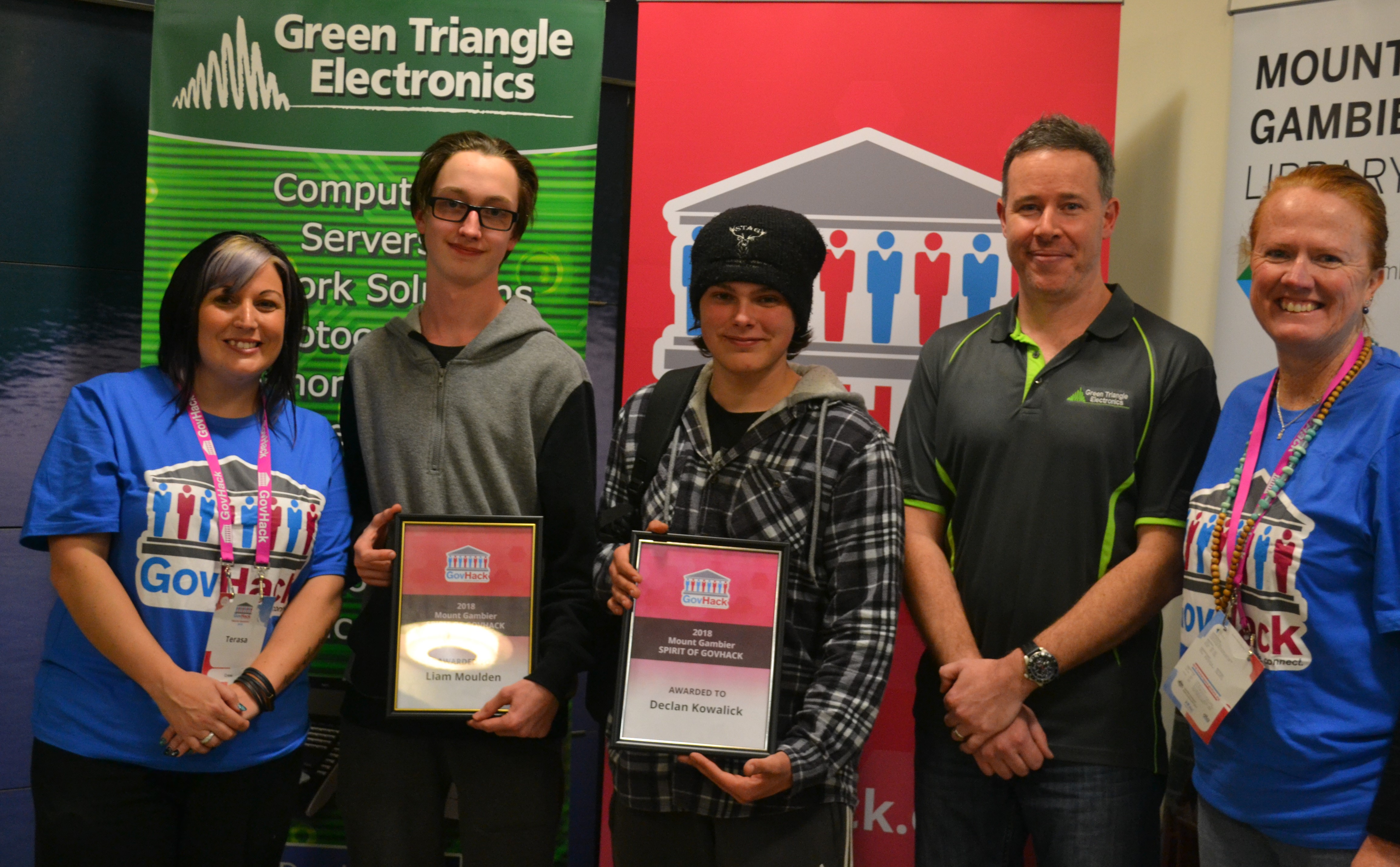 Photo: Mount Gambier GovHack mentors, winners and sponsors from the previous year

What: GovHack Competition - Mount Gambier
When: Friday 6 September - Sunday 8 September 2019
Friday – 5:30 – 10pm
Saturday – 9am – 10pm
Sunday – 9am – 6pm
Where: Collaborative Learning Centre, Mount Gambier High School, 17 Brownes Rd, Mount Gambier SA 5290
Contact: Library Youth Services Coordinator, Teresa Nearmy tnearmy@mountgambier.sa.gov.au.
Following the success of both adults and youth (including high school students) over the past five years, Mount Gambier Library is pleased to again host the GovHack Open Data Competition, this year in conjunction with eNVIsion Limestone Coast.

GovHack is a nationwide event that brings together people around Australia and New Zealand to create new ideas and concepts using open data in just 46 hours of competition time. Teams work together to come up with an idea that makes data more accessible and interesting – think apps, websites, games even art! It doesn't have to be a working model – just a great concept. The competition is judged on the team's entry in the form of a 3 minute video, recorded over the weekend describing their project and idea to make the data more usable and accessible to the public.
GovHack Event - Mount Gambier
This year the competition runs from Friday 6 September until Sunday 8 September 2019 and will be hosted at eNVIsion Limestone Coast's headquarters; the Collaborative Learning Centre (CLC) at Mount Gambier High School. eNVIsion Limestone Coast is all about a collaborative community for new and existing businesses of all sectors and industries, who help you grow, develop, scale, and connect to new local, national and international markets. eNVIsion take pride in delivering their services; through partnerships with business, industry, schools and councils, backed by the expertise and infrastructure of Flinders University and its New Venture Institute.

"With the success of previous years and the competition growing, so has our need for space" explained Terasa Nearmy, Mount Gambier Library Youth Services Coordinator.

"By hosting the event at the Collaborative Learning Centre, participants will have exclusive use of the venue with both Library and eNVIsion Limestone Coast staff available throughout the weekend to assist participants".
Categories
The competition is open for two categories – youth (13-17 year olds) and adults (18 years and over) with prizes at three levels: Local (Mount Gambier), State and National. Competitors are supplied with unlimited wireless access, mentoring and meals throughout the competition.
Prizes
"This is our sixth year hosting the GovHack Data Competition, and we have seen standout success at state and national levels, with participants receiving prizes worth thousands of dollars including cash, products and further development opportunities. We hope to see even more schools, students and adults taking part this year and potentially more people from Mount Gambier scooping up prizes" said Ms. Nearmy.
Get involved
"This isn't just a competition for people who are into IT, successful teams also need people who are great at promotion, storytelling, social media even art and graphic design. With thousands of sets of data to choose from, the idea is to play to your strengths and interests, from environmental issues to tourist spots, from endangered animals through to industry data".
Register Now
Registration for the competition is open now up until the Opening Night. Head to the website www.govhack.org where you will find a wealth of information around the guidelines and expectations of the competition under the 'Hackerspace' portal.

For further information please contact Library Youth Services Coordinator, Teresa Nearmy tnearmy@mountgambier.sa.gov.au.
Sign up for the newsletter!