What it's like to Volunteer at Connecting Up?
Submitted by SAcommunity on Mon, 10/08/2018 - 15:25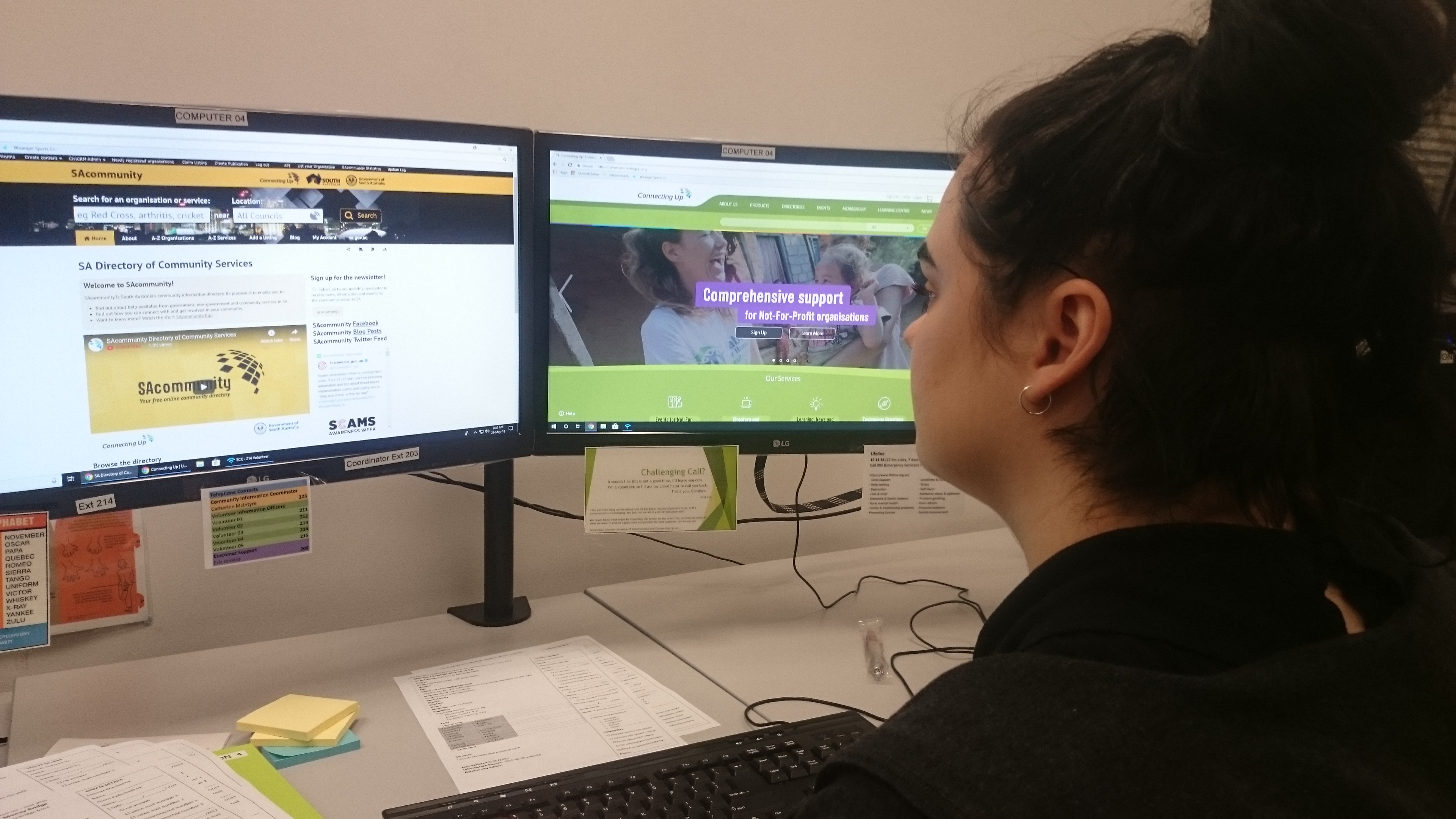 Erin has been volunteering with Connecting Up for a year now, and wanted to share her story, how and why she decided to volunteer with us, what she has learnt and how she feels volunteering may assist others in a similar situation:

Erin, Connecting Up Volunteer Officer
I began volunteering because I have been studying Administration at TAFE SA and wanted to improve and develop my skills and knowledge in a hands-on environment to improve my future employment opportunities.

Before studying I had a little experience in minor retail roles and limited skillset in the office positions that I wanted to work towards. I decided to start studying at TAFE SA for a certificate III and IV in Business Administration and further on into a certificate III in Health Administration.

When I came to Connecting Up I learnt a variety of different skills, skills that are not only useful in an administrative environment but that can be applied to many different fields of work, skills I did not possess before.

I have gained experience working in an office environment, in communicating with customers and members of the community and with other staff and volunteers. I have learnt technical skills by using customer relationship management software such as CiviCRM, customer service software such as Zendesk and soft phones such as 3CX, about databases and standardised data entry.

I have sent and responded to emails using software such as Office365, checked files on SharePoint and edited content in the online community information directory SAcommunity. Recently we have been using Microsoft Teams to add information to a training wiki and to use the planner to allocate projects. I have also been creating training modules using video editing software Camtasia and Snagit. It has been a fun and rewarding experience that has made a great impact on my skill-set and confidence.

For my future employment I feel I can confidently say I can make phone calls, connect and communicate with customers and members of the community, work together with others as a team to achieve goals and use a range of databases and customer related software to input and manage data and information.

I feel like this kind of experience can apply to all kinds of people, not necessarily those in an administrative role, who are looking to improve and develop their workplace skills and knowledge, to look at working with others, building relationships and gaining confidence in communicating with others whether in person or over the phone.

Before volunteering at Connecting Up I didn't know much about volunteering or how to go about it. I have enjoyed this role and it has given me a volunteering opportunity in an environment that allows me to continue to learn and broaden my experience.
Sign up for the newsletter!